Computer Repairs Brisbane
Core Computers: Your Computer Repairs Brisbane Authority
Are you looking for a good and trustworthy computer repair shop? Then, your search ends here. Here at Core Computers, we do everything computer and IT-related so it's safe to say that we've seen them all. With over 35 years of experience, we've handled different types of laptops and desktops that whatever your machine's problem is, we can definitely fix it. We've already mastered how IT products work and we know exactly how they can be repaired. We have a team of experts and professionals in the field so you can be confident that you're in good hands.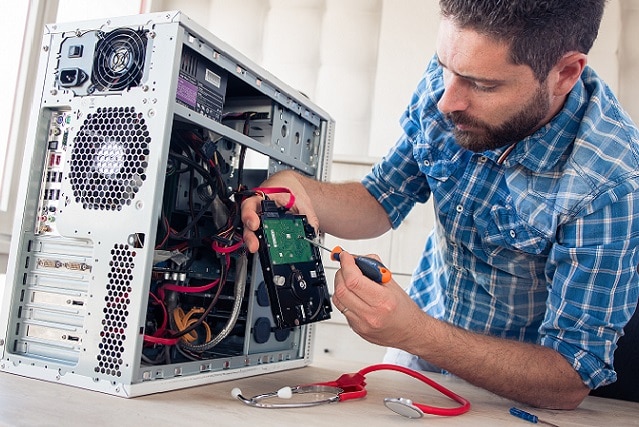 What Makes Us the Biggest Computer Geeks in Brisbane?
Founded in Albany Creek in 1984, we see ourselves as one of the pioneers in this field. We're experts at repairing new computers and the older models as well. We believe that just because a machine isn't as fast or functioning properly as before, doesn't mean you have to throw it right away. Simply head over to our shop with your hardware and we'll see what we can do.
We have a fully-equipped service center that can typically attend to any task right away. But, we have a next day workbench policy for most jobs so we advise you to bring your PC in right away the moment something wrong happens. The good news is we have priority repairs available by request so if your issue needs to be checked immediately, we highly recommend getting this (you will be charged an additional fee, though.) While our average repair time varies from one to three days, most of our jobs are still fixed on the same day. Items under the Core Warranty are repaired for free but please be advised that they'll still be on a "first in" basis unless prioritized.
What sets us apart from the other computer repairs Brisbane shops is that we don't charge per hour and start at only $35/day. This is because we know that troubleshooting, installing updates, or repairs all take time so we charge based on what we have done and not by how long your equipment has been on our bench. We live by the slogan "sales, service, solutions" as well. So whether you need to buy a new device, need to get your equipment repaired or ask for some advice, or merely just to say hi, we urge you to visit our shop—we love having you around! Core Computers can perform literally any task for you: all you have to do is ask!
What Does this Computer Repairs Brisbane Shop Offer?
Core Computers has a variety of computer services and repairs available, ranging from:
Onsite Services
With Nathan as our lead IT specialist, we handle tech-related issues from simple to complicated and redundant network systems. Having more than 20 years of experience, he has seen almost everything that there's nothing he can't do or figure out—meaning, you'll be up and running in no time! We aim to provide you with a friendly and affordable yet professional service from start to finish. Contact us today and schedule your first appointment.
Data Recovery
Losing your precious data may be one of the most frustrating things ever. But that's what these computer geek Brisbane persons are here for! Whether it's a damaged flash drive or RAID volume, our Boomerang software supports FAT, NTFS, Windows 10 and Mac and can certainly help get your data quickly and affordably. Just remember that there are limits to what we can do. If your drive is working properly and doesn't make any weird sounds, we can fix it. But if it's the opposite, you can still bring it in and we can recommend a data recovery specialist to solve your problem in no time.
Network Solutions
Our team has extensive experience with all types of computers from the days of DOS until present. So whether it's repairing a computer with a Windows 95 model or one with the latest version, you can expect our shop to help. Just let our technicians check your laptop, desktop PC or printer and we'll do the rest.
And being the true computer geek Brisbane that we are, we can also help with your Power over Ethernet problems or in installing a new wireless system. We can optimize your wireless system, remove extension networks and add several wireless access points to deliver a better solution to your home or office.
Businesses within Albany Creek, Brendale or Eatons Hill don't have to worry about callout fees. However, if you're outside these areas, we'll charge you with just a minimal fee and we'll get to work right away.
Servers
Having worked with major manufacturers, we offer the best servers for the money. Depending on your budget, we can recommend either HP, Fujitsu or Lenovo servers. We've helped various computer shops across Brisbane and worked closely with them to keep them up and running.
After buying our servers, we recommend getting a maintenance plan. Some customers choose not to have one for economic reasons but this will give you peace of mind knowing your servers are running. For as little as $240/month, you're assured your server has the latest updates and even gets a reboot even after normal business hours!
Upgrades
Need a faster computer but don't have the budget? Worry no more! Here at Core Computers, we specialize in system upgrades and we can just replace some components of your desktop or laptop to enhance the speed—and that means saving some money! Sometimes, all we need is to replace your internal hard drive with a solid-state drive and you're good to go. Simply visit our shop now and we'll see what we can do.
Viruses
We hate computer viruses just like you do. However, we regularly see computers infected with malware and other PUPs (potentially unwanted programs.) As the leading computer repairs Brisbane shop, allow us to restore your machine and bring it back to normal. We use and highly-recommend ESET antivirus if you prefer the paid version and Avast antivirus for the free version. You can see us or check out the ESET website for more information.
Get your laptop or computer fixed today, call us to discuss!
Get your computer repairs fixed today!